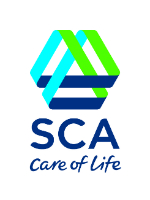 About SCA
SCA is a global hygiene and paper company that develops and produces personal-care products, tissue, packaging solutions, publication papers and solid-wood products. Sales are conducted in some 100 countries. SCA has many well-known brands, including the global brands Tena and Tork. Sales in 2010 amounted to SEK 109 billion (EUR 11.5 billion). SCA has about 45,000 employees.
The SCA group consists of six business groups and one central function on behalf of hygiene operations. The business groups are: SCA Personal Care Europe, SCA Tissue Europe, SCA Packaging Europe, SCA Forest Products, SCA Americas, and SCA Asia Pacific. The central function SCA Global Hygiene Category serves hygiene operations globally.
The parts of SCA participating in the TOSCA project are primarily SCA Global Hygiene Category and SCA Personal Care Europe. Therefore the basis for most of the SCA examples and experiences that are described at this site are joint efforts in the SCA group and the SCA hygiene operations for personal care products.
Website: www.sca.com